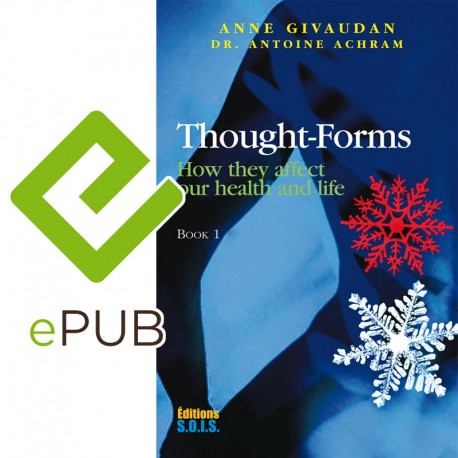  
Thought-Forms - Book 1 – epub
Anne Givaudan
ISBN : 978-2-916621-49-0
Warning: this is a digital book that can be directly downloaded onto your computer or tablet. You will need to have a compatible epub reading program to view it.

How they affect our health and life

Outside of our dimensions of space and time, there are beings that live intensely. Their world is exciting yet peaceful, and may provide a model for the future of the Earth.
Anne Givaudan, known for her out of body experiences and explorations of other worlds gives us in this book a rare look at what life is like on other inhabited worlds.
This book takes us on her extraordinary journey to the inhabited planet of Venus and the hidden face of the moon, where she learns firsthand about other galactic civilizations.
Through a pleasant, surprising and unusual read, we will realize there are other ways to approach Life and Love. Reading this amazing book will open a new world of possibilities.

Anne Givaudan a French author and the co-author of 15 books that have been translated in many languages. She is known for her out of body experience and explorations of other worlds. Her books teach about the world of after-life, life on other planets and about main questions of our present lives. She hopes her discoveries and contacts will help each and every one of us to rediscover our true nature: multidimensional and limitless.


•

Video (english subtitles available)

Self-interview of Anne Givaudan and Antoine Achram about their book: the forms-thoughts (Editions SOIS).






Aucun avis n'a été publié pour le moment.
Les clients qui ont acheté ce produit ont également acheté...